uefa2020
Meet the players: Bosnia's "Zeusinjo"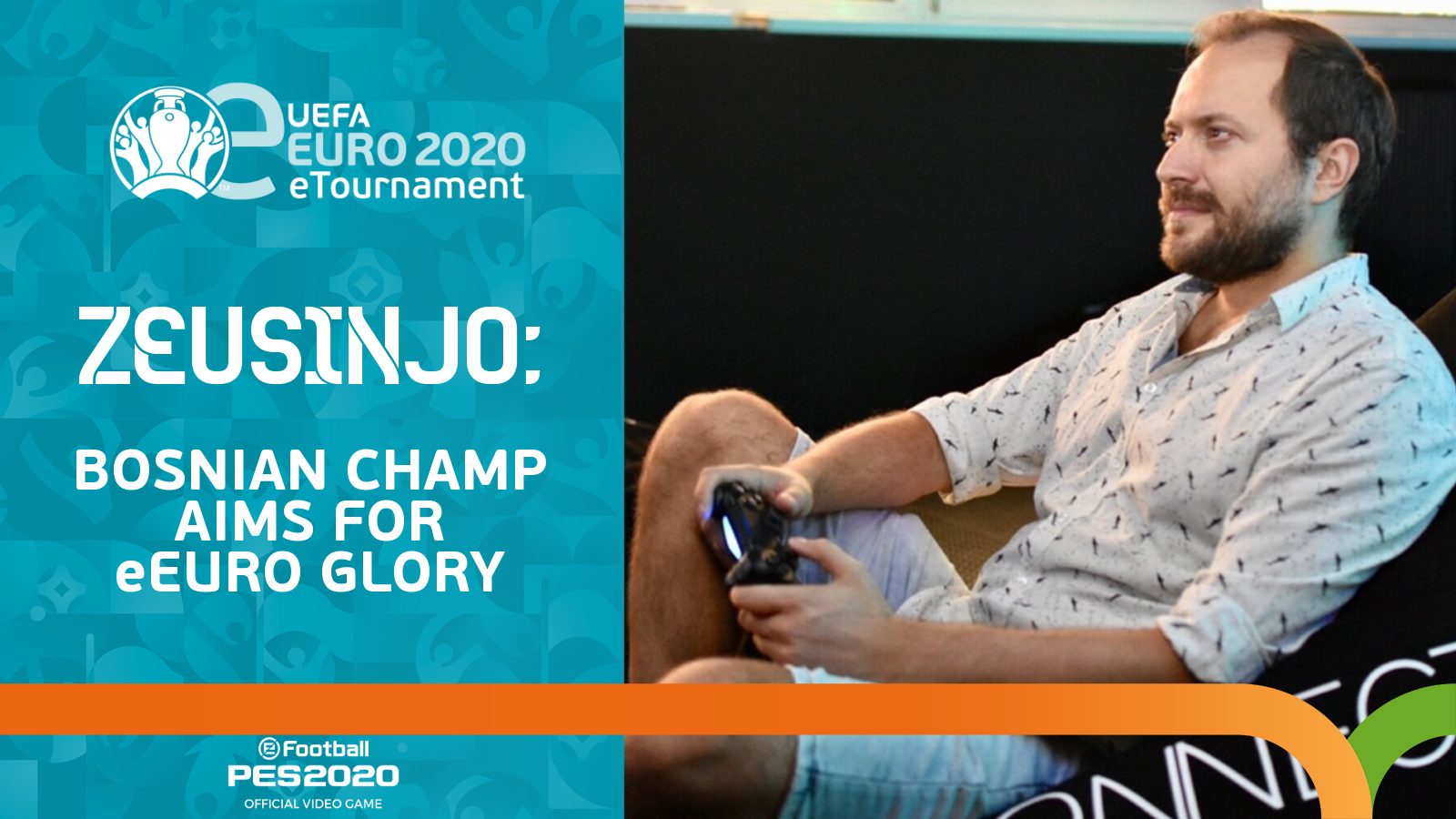 The player selection qualifiers for the eEURO 2020 have been packed with action throughout the continent since cups started in early November. To keep the hype rolling, let's meet some of the skillful players who already clinched a place in their respective countries' final selection playoffs.
Today, we chat with Feđa "Zeusinjo" Đedović, a nine-time national champion in Bosnia and Herzegovina who won his country's first qualifier and has his sights set on representing his country:
Tell us a little about yourself, when did you start playing PES and when did you realize that you could compete professionally?
I am from Sarajevo, 34 years old and a professional PES player since 2010. I started playing 22 years ago, back on "Winning Eleven 97" for the PS1. At first I just played with my friends, but after a few strong tournaments in Sarajevo I realized that I could also make some money.
The first Bosnia and Herzegovina PES national championship took place in 2010, which I won and that was the moment when I decided to play as a professional. After that, I won seven more titles until 2018, when I lost the final game against my team mate Igor Zečević. This year I had a chance to get payback against him and I took it.
Who are your favorite players from the Bosnian national team?
My favorite Bosnia and Herzegovina international of all time Safet Sušić and I also loved to watch Meho Kodro in the nineties. From the active players, my favorites are Vedad Ibišević (Hertha), Edin Džeko (Roma), Miralem Pjanić (Juventus) and our Bosnian tank Sead Kolašinac (Arsenal). As a person and a player I also like Asmir Begovic (Qarabag). All of them have something that they did or still do for our country and our people and I appreciate all that they do humanitarian work, donations, promoting our country abroad and of course their sporting achievements on the field.
How does your local PES scene compare to the rest of Europe?
It's not so strong if I compare with the rest of Europe. I currently play for Team Ancestral, an esports organization from Zagreb (Croatia) alongside my teammate Igor; we are probably the two best PES players in Bosnia and Herzegovina. We don't have so many achievements in international KONAMI competitions because every year the qualification system is very hard, especially because Bosnia and Herzegovina gets placed in Rest of the World group. I see myself maybe in the Top 50 players from Europe. In the end it is really hard to compare scenes with thousands of players, big esports associations and sponsors with those from smaller countries with few hundreds of players and no potential sponsors.
Tell us how your tournament went, what was your biggest challenge?
I was very nervous before the tournament. I never played with my first three opponents, but I was focused and won every match easily. My hardest match was in the semi-final vs. Pehar. I couldn't do anything in the first half, but in the second half I changed my strategy and in the end won 4 – 1. My advice for all participants in the next qualifiers is to be patient and not be scared of your opponent; to play strong and smart. Everyone can beat anybody, just like in real football.
You actually placed no. 1 in your cup and in the final you went down in the score twice. How do you stay focused in a situation like that to come back and get the win?
In the final I played with my biggest opponent, my teammate Igor. I went down in the score twice, but in the end, I came back and won 4-2. I am well-known for being able to stay focused during tournaments and a high degree of concentration. Those two things helped me on this and almost every other tournament during my professional career.
🙃🇧🇦 Congratulations to @Zeusinjo for turning the scoreboard on its head twice on his way to the top 4 of the @NFSBiH player selection qualifier!

Don't forget to submit your #eEURO2020 clips for a chance to win an official matchball! pic.twitter.com/2o3OjUsmBL

— ESL PES (@ESLPES) November 4, 2019
What would it mean to you to be part of the Bosnian team in the eEURO?
This is my goal for this season, to represent Bosnia and Herzegovina at the eEURO. I hope this will happen. Every player in real sports and esports of course have just one wish and that is to wear their national team's shirt.
In the eEURO the teams must also play in co-op mode, what do you look for in a 2v2 partner?
As I already mentioned, my teammate Igor Zečević is my biggest opponent in Bosnia, but also the only one with whom I can play and represent Bosnia with potential for success. I hope Igor and I will be the "lucky" duo representing Bosnia at the eEURO. If Igor or I don't make the final squad, I will still be available to help the team with advice or anything else they need. Igor and I know each other very well, so that would be the best combination for the team if we want to have any success and maybe go to London.
How would you describe your style of play?
I am more of an attacker and an old-fashioned player. Much younger players use a lot of tricks and stuff like that, whereas I use my experience, strength of players and some knowledge from my days as a real footballer in my youth. Let's put it like this: those younger players are like Neymar and I am like Ruud van Nistelrooy or Luca Toni. And I always play for more goals, so sometimes my games are more like water polo matches than football.
What advice would you give to someone who wants to make the leap to play PES at elite level?
Every player that wants to play at a high level in any esport needs to be patient, to train a lot. So the free time is very important. You need to be understanding with your family, friends, partner, children. You also need to play with the best of the best and to play strong tournaments. Without those few things there is very small possibility that someone can make it in any esport.
⚽️ Submit your clips from our player selection qualifiers for a chance to win the official @EURO2020 match ball!

Don't forget to use HT #eEURO2020 and tag @ESLPES when posting 😉 pic.twitter.com/Kh3wIcsGZg

— ESL PES (@ESLPES) November 7, 2019

No comments yet.

Information:
info write comment not allowed